If I did a DIY (Do It Yourself) project, does that mean I Did It Myself (DIM)? Probably , but for other reasons.
At any rate, I recently dove in to this DIY project. It's called a Flip Desk.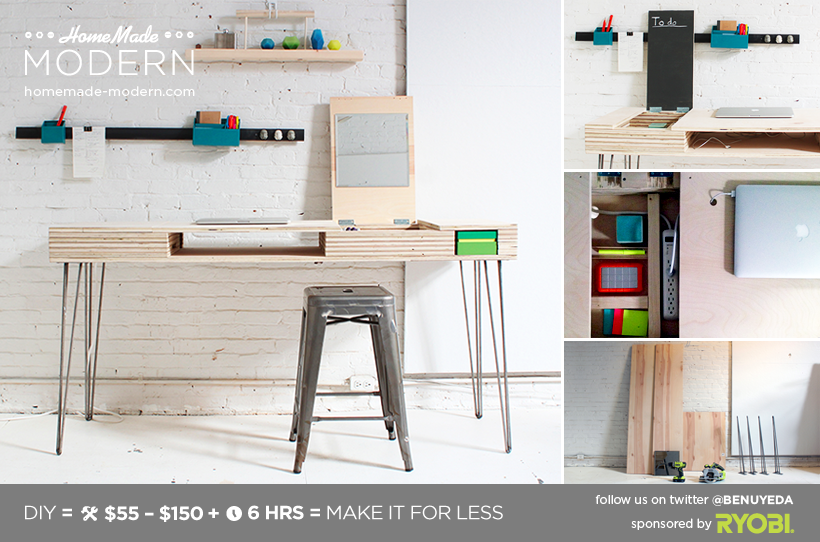 The thing is, I'm not that guy. The guy who has the wood working shop in the garage like my friend Mike's dad. I have some very basic tools to get very basic jobs done. I have a skill saw, a drill with bits, a measuring tape, a couple of levels, and a right-angle thingy. I figured that it was enough to get the job done. You know what? I was right. But I learned a few things along the way and after.
Along the way…
The results are only as good as the pattern you follow. Well, mostly. The instructions were not as complete as I would have liked and I had to improvise in a few places.
When I started things didn't look as pretty as the picture because I was still learning how to do it. My last few cuts and placements of parts look way better than the first ones.
Things that look easy on paper are always more challenging and take longer than you think. Always.
After the fact…
It was larger than it looked in the picture.
I don't know how they expected someone to sit at it. The top surface was was too high off the ground for someone sitting in a regular chair, even an adjustable one at the highest setting. I felt like a little kids at my daddy's desk.
I don't know how they expected someone to sit at it on a stool like the one in the picture because your legs can't fit under it. This is not one size fits all.
I liked it way more than I thought I would after some minor modifications and additions of my own. One of them being putting a two-by-four under each of the legs I got from Ikea. (I got the kind where the desk sits on top of them, they aren't attached to the desk.) No I can sit at it perfectly.
I'm inspired to work at it.
As I thought through these things I think the Lord was showing me that ministry can be very much the same, even with regard to using very basic tools. I'll let you read through the lists above and see if He points out any parallels for you in your life. Me me, most of them apply. (If only a couple of two-by-fours fixed church stuff, without going to jail for assault that is.)
Hopefully you will see many more things coming from this labor of love, er, desk.